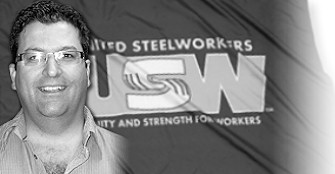 PRESIDENT'S CORNER
LOBBYING FOR THE
SOFTWOOD LUMBER AGREEMENT
As most of you know by now the U.S. has imposed a 20% tariff on Canadian softwood. Even if their allegations are unfounded and that Canada has been successful in winning every allegation in the past, they are still imposing the 20% tariff on the Canadian softwood. This is not to mention the anti-dumping charges that U.S. will impose over the 20% on June 23rd.
The U.S. investigated five companies to come up with the 20%. The companies were West Frazer who was at 24%, Canfor was at 20.56%, Tolko was at 19.5%, Resolute was at 12.82 % and Irving was at 3.02%. All the other companies in Canada are subject to 20 % tariffs with 3 months retro pay. The five other companies that were investigated are not subject to retro pay because they weren't found guilty of increasing their exports. The U.S. is alleging that the other Canadian companies have increased their exports and therefore imposing a 3 months retro. For the U.S. the higher the taxation the better negotiating power they'll have in finding a resolution in their favour in resolving this dispute.
The last softwood lumber agreement left the workers and communities out. We want to make sure our voices are heard this time around and believe the new agreement should have these points to address workers and communities' concerns.
1- That this negotiated deal puts workers and communities first.
2- The agreement needs to ensure that local and manufacturing jobs are protected.
3- Federal loans guarantees.
4- Canadian industries need fair access to U.S. markets, equal to third country producers.
5- Targeted industrial development plans must be developed and implemented with workers in mind.
6- Forest health must be part of the plan – replanting and ensuring forest sustainability for future generations.
7- All duties collected should be returned to the industry in the interim, and long term should be used for community restoration funds.
The Steelworkers Wood Council, which your Local is a member of, has put a strategy together to address our members' concerns and push our agenda forward. In the upcoming weeks and months your Local will be part of lobbying some decision making people in Washington D.C. to let them know of our position and to educate them on the truth on the forest industry in Canada and also the impact this has on the American markets.
We will also lobby the Canadian Committee, the Seven Ministers appointed by Trudeau to negotiate the new agreement, to also let them know of our position and the needs and concerns of our membership.
We intend to meet with the MPs and MPPs in our ridings to help and for their support on our position.
We will also seek municipal help in the form of a resolution to be passed at the municipal council to support our position.
A letter will be formulated for the Local Union to be sent to Premier Trudeau to make him aware of our position.
And last but not least, we will build alliances with other partners who will be affected by this new softwood lumber agreement.
As you can see your Local will be very busy in the upcoming weeks and months and we may be calling upon some of you to assist us in your local area. Hopefully together we will succeed in getting a better deal.
I want to take this opportunity to wish you and your family a safe vacation. Enjoy as you surely deserve them.
In Solidarity;
Guy Bourgouin
Emotional USW International Convention
Nine delegates from your Local attended the USW International Convention in Las Vegas Nevada. Your delegates dealt with resolutions to move our Union forward and listened to numerous speakers and guests from different countries speaking on struggles the Union movement is facing.

Unfortunately for our delegates, this convention was an emotional roller coaster ride as one of the Local's representative, Brother Bruce Frost, had a heart attack the night before the convention started. Brother Frost was at the food court in the hotel when the incident happened. Luckily for him there were people around to reanimate him and he was rushed by ambulance to the Spring Valley hospital where they placed a temporary pacemaker. That night Bruce was stabilized and was doing fine. The next morning, when we went to visit him to see how he was doing, his condition had taken a turn for the worse. He was put in an induced coma and now the problem was his lungs. The hospital staff figured food or liquid had lodged in his lungs and at that moment Bruce was a very sick man and was in a very critical situation. We were then told that the family should be contacted to be by his side. The family flew that same day to be by Bruce's side. Fortunately Bruce showed positive signs once his family had arrived but he was not out of danger.

At the convention delegates were coming to me and our delegates, giving money to help the family. Help came as a good friend of Bruce's and the Local, Brother Don Guest, President of Local 1-500, approached me and proposed to put an online Go Fund Me Bruce Frost campaign. The response was immediate. The Steelworkers Brothers and Sisters from the convention donated over eight thousand dollars to support Bruce's family in their time of need. On behalf of Bruce's family and the Local, I want to thank Brother Don Guest in establishing this fund for Bruce and also all the Brothers and Sisters and others who donated to the fund.

Brother Frost was released from the Spring Valley Hospital two weeks later and flown back to Canada at the Thunder Bay Hospital. He was then flown to the London hospital and got a permanent pacemaker installed. His condition improved immediately and he was sent back to the Thunder Bay hospital where he was released home on May 11th. Brother Frost is now at home recovering and knowing Brother Frost we will surely see him bounce back and servicing the membership he loves.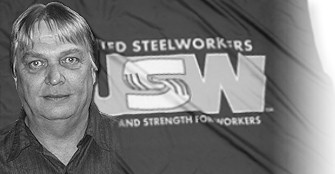 Brother Bruce Frost, Local 1-2010's 2nd Vice President and Union Representative.
USW International Convention
Las Vegas, Nevada
April 10th to 13th, 2017