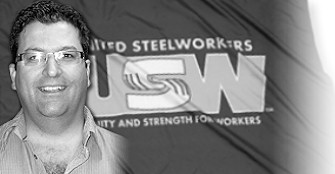 PRESIDENT'S CORNER
LOCAL 1-2010'S THIRD
TRIENNIAL CONVENTION
It was with great pleasure that on behalf of the officers of Local 1-2010 I welcomed over 80 delegates and guests to USW Local 1-2010's third Triennial Convention at Le Conseil des Arts in Hearst.
Delegates dealt with resolutions and business of the Local that will lead the direction of the Local for the next three years. I'm also pleased to report that all the officers, trustees and myself were all elected by acclamation by the delegation of the Convention.
Guest speakers at the convention were Ken Neumann (USW Canadian National Director), Bob Matters (USW Wood Council Chair), Pierre Leblond (President of Local 8644 from Chantiers Chibougamau) and Pascal Loignon (full-time representative from District 5 - Québec) who made a presentation on forest operations that USW have in the province of Québec.
At the convention, the Local recognized the service of four Brothers who retired from the Executive Board. They were given a wooded watch as a gift from the membership in appreciation of their service to the Local. They were Brother Gary Pearson from White River Forest Products sawmill with 34 years of service, Brother Marcel Rodrigue from Lecours Lumber Sawmill with 23 years of service, Brother Rémi St-Martin from Tembec Chapleau sawmill with 16 years of service and Brother Réjean Laurin from Tembec Hearst woodlands operations with 5 years of service.
On behalf of the Local I want to thank these Brothers for their service and loyalty to the membership and always making sure that the Local delivered the best service that the membership deserved.
The Local also gave its second President Award that was created at the 2015 Triennial Convention. This award is only given every 3 years at the Triennial Convention where the President, at his sole discretion, choses a member who has gone over and beyond the call of duty for the membership of Local 1-2010. Brother Girard Lamothe of Rockshield in Cochrane was the first recipient in 2015.
For this year's Triennial Convention, the recipient of the President Award was Guy Veilleux from Columbia Forest Products who's been a member of the Local for 25 years. He has been involved in numerous functions in his unit: Safety, Grievance committee member, Steward for numerous negotiations and 3 years on the Local Executive board as Conductor. On your behalf I want to thank Brother Guy Veilleux for his outstanding service to his members at Columbia Forest Products and to continue his work for the Local.
On a personal note, as I write this report I will have ran in the 2018 Provincial Election that will be done and over with by the time you read this report. It's like writing a report for the future, so here is my attempt.
I would have never imagined that after 21 years of service to this membership and 16 as your President that I would now seek election as MPP for the Mushkegowuk - James Bay riding as the NDP candidate in the Provincial Election held on June 7th.
Representing workers in different sectors has given me the experience in multiple work environments and industries to better represent the constituents of Muskegowuk - James Bay. Gilles Bisson MPP came to me before Christmas and asked me to run for the riding in the next provincial election.
I told him he was asking me to leave a job that I loved and was comfortable in and was still having fun doing; plus I was thinking of retiring in 8 years.
I told Gilles if I was to do this, 3 things needed to happen: 1- My wife and family had to be on board, 2- I needed a leave of absence from my Local, 3- His staff stays to work for me.
Helping people is what I've been doing even before I was a union representative. People would come up to me and ask me to help them. It got me into trouble more than my share but I wouldn't change a thing.
I always wanted to be part of making changes. I learned early that to make changes you have to be at the table and be part of the decision making. My values won't change except that, if elected, instead of working for my membership I would work for all the constituents in the riding.
I also know that I have to earn your trust and prove myself. I hope I have done this as your President in the last 16 years. All I ask is that you've given me that opportunity on June 7th as your new Member of Provincial Parliament.
If I was elected on June 7th, I want to take this opportunity to tell you: thank you for making this job the best learning experience of my life and it was an honor and a privilege to serve you.
If I wasn't elected I won't be that disappointed as I will continue doing what I loved doing the most and that is serving the membership of the greatest Local I know: My Local USW Local 1-2010.
In Solidarity;
Your President or your past President, Guy Bourgouin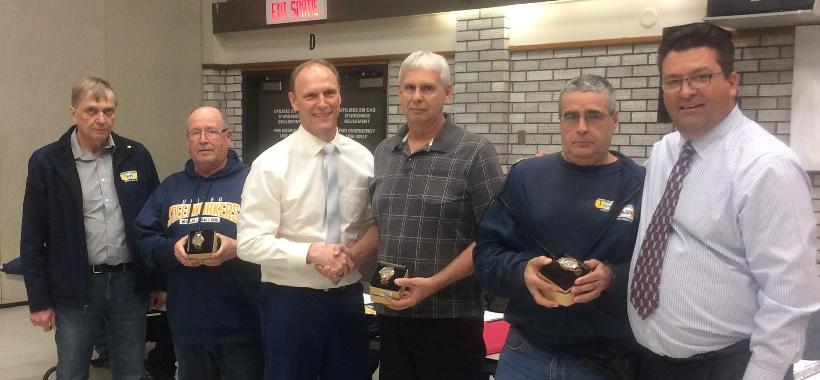 Four Brothers received watches in recognition of their years of service with our Executive Board. Left to Right: Bruce Frost (2nd Vice-President), Réjean Laurin (5 years of service), Jacques Jean (1st Vice-President), Rémi St-Martin (16 years of service), Marcel Rodrigue (23 years of service), Guy Bourgouin (President). Missing was Gary Pearson (34 years of service).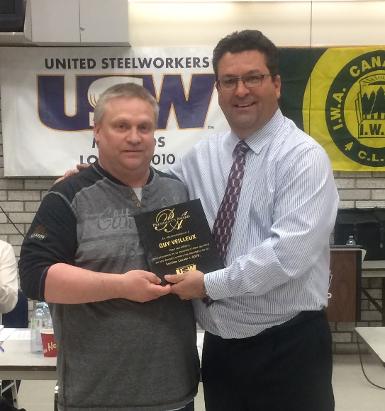 Brother Guy Veilleux, President's Award recipient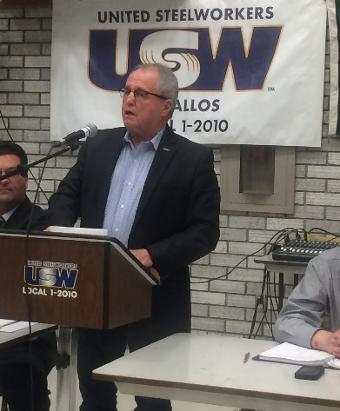 Ken Neumann, USW Canadian National Director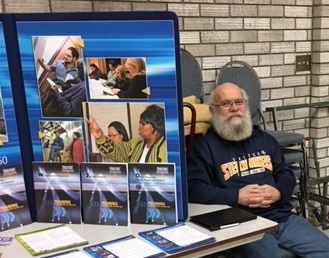 Ron Boucher, Workers Health & Safety Centre representative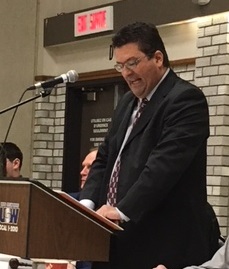 Guy Bourgouin, President Local 1-2010