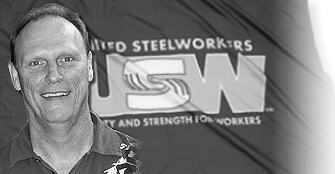 CHALLENGING UPCOMING YEARS
FOR WOODLANDS AND
SAWMILL NEGOTIATIONS
Most of the workplaces in the Hearst, Hornepayne and White River regions are in operation, except for the woodlands operations that are down right now but are scheduled to restart in June or July.
Hornepayne:
The sawmill has been running since January. There has been issues with log supplies, but the company has managed to be in operation despite all the pitfalls related to the reopening/restarting of a sawmill and woodlands operation.
Aramark:
We have reached an agreement with Aramark Canada Ltd. on March 8, 2017 and the members have ratified this agreement on March 19, 2017. This 3 year agreement has increases in wages at 1.5% per year, increase in the shoe allowance, in the Pension Plan, in the Pay in Lieu for part time employees and some changes in the language that the members are happy with.
Maison Renaissance:
The Collective Agreement at Maison Renaissance has ended on March 31st, 2017. Negotiations are scheduled to start June 19th & 20th, 2017. More details in the next bulletin.
Next round of negotiation for the Sawmill and Woodlands operations:
Most of the Sawmill and Woodlands Collective Agreements are going to be ending in/or around September, 2017. We have gathered the demands at each workplaces. We have also held a Wage Conference for each of the sawmills and woodlands operations in March and May. We are now ready to start negotiations with the companies. More in the next bulletin.
Local 1-2010 Health and Safety Council meeting:
Our Local's Health and Safety meeting was held on May 25th and 26th. 22 Co-Chairs/Safety committee members have attended the meeting. They received training on Fire and explosion, and also on Critical incident and traumatic stress given by Brother Ron Boucher from the Workers health and Safety Centre. Elections were held for delegates to be sent to the International Health and Safety conference that is going to be held in March, 2018 in Pittsburgh. Also, two delegates, namely Sister Janet Daigle (Centre de Santé communautaire de Sudbury) and Brother Donald Loveday (Shuniah Forest Products), are going to attend the next National Health and Safety conference to be held in Vancouver BC during the first week of October. More details in the next bulletin.
I take this opportunity to wish everyone a good summer. Stay safe.

In solidarity;
Jacques Jean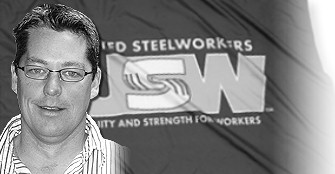 2017 IS A BUSY YEAR
FOR NEGOTIATIONS
Canadian Blood Services
Canadian Blood Services members met last February to take demands for upcoming negotiations since their Collective Agreement expired on March 31st, 2017. We started negotiations in June and we are hoping to be able to report back to you on a new agreement with this unit in our next Union Echo edition.
Centre de Santé of Greater Sudbury
The same is happening with our members at the Centre de Santé of Greater Sudbury. Their Collective Agreement has also expired on March 31st, and on February 27th we met with the members to take their demands. Negotiations started on May 23rd and hopefully we will be able to report in our next Union Echo edition with a new collective agreement.
Tembec Opasatika Truckers
As mentioned in the last Union Echo edition, the Local and the members from the Tembec Opasatika truckers division were in negotiations with the company. The members there ratified a new 3 year agreement which includes increases in their base truck rate, an increase in the reimbursement for their tree length permits and starting December 2018, the truckers from this operations will be the first to start hauling for the company (Tembec). This should create more work for these truckers in the future.
As for the Tembec Cochrane Sawmill Operations, the Rockshield Engineered Wood Products in Cochrane, the Maison Arc En Ciel in Opasatika, the Tembec Spruce Falls Woodlands Operation and Office Workers and the Tembec Opasatika Woodlands Operations; all these units are up for negotiations. We have met the membership to take their demands and we have dates scheduled to start these negotiations. As you can see this will be a very busy year for negotiations.
On that I would like to wish everyone a safe and happy summer!! Enjoy your time off with family and friends!!! Have a great summer.
In Solidarity;
Eric Carroll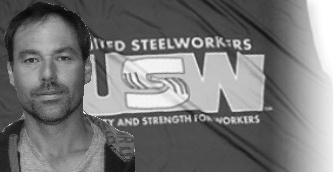 NEW DEAL FOR OLG CASINO
DALLAN PULP AND LUMBERYARD
NEGOTIATIONS ON THE HORIZON
OLG Casino
Negotiations began November 28th, 2016 for the floor and clerical workers of the OLG casino. Their first Collective Agreements expired on October 31st, 2016. Many issues and demands were brought forward and the bargaining committee, made up of 1 member from each respective department, waded through each proposal and counter proposal from the OLG's representatives. The groups collectively and successfully negotiated two new 3 year agreements ending on October 31st, 2019, winning new language changes to scheduling, working conditions, wage increases and a signing bonus for moving away from the Ontario pension plan. Both units, consisting of a total of 200 workers, overwhelmingly ratified their memorandums of agreements on December 7th, 2016.
A month after ratification, the OLG has announced the name of the new service provider who will be taking over day to day operations of the casino beginning May 30th, 2017. That company is called Gateway Casino. The new owners will take full responsibility for the Collective Agreements and the bargaining unit employees. Others within the site such as supervisors, security and surveillance who are not protected under a collective agreement have been given offers of employment which will secure their present working conditions for one year.
Wanson and North American lumber
These two agreements expired on February 28th, 2017. Demands have been taken and bargaining will begin by the end of May.
Dallan L.P. Thunder Bay Pulp Mill
Demands from the unit have been received. Proposals have been assembled and have been presented to the company on May 8th, 2017. Dallan employs approximately 40 members at this site. Dallan L.P also has Collective Agreements at the Resolute Thunder Bay sawmill and contracts to provide heavy equipment services at Resolute Ignace and Resolute Atikokan sawmills.
Resolute Atikokan sawmill
Atikokan Saw has continued their steady pace towards reaching targets. We have had two membership meetings since my winter echo. Unfortunately the Royal Canadian Legion, which is our usual spot for meetings, was undergoing renovations and I was unable to secure a site with the potential to hold all the membership at once. We have since been able to resume use of the Legion and with the help of your steward we have found another venue in case we need to move meetings. Watch the bulletin board for future meetings, other union related documents and education flyers.
Grievance regarding classification interpretation has been resolved with the proper rates now being paid for level (1) debarker operator, retroactive to January 1st, 2017. After extensive conversations between the Union and management, Resolute began growing from within and began to utilize the Collective Agreement regarding apprentice training. We hope that this is the start of good things to come for younger and older members looking to advance their skills.
Resolute Ignace sawmill
We began the year off with many grievances regarding the day to day operations such as hours of work, proper notification of lay-off, classifications and termination. Most have since been resolved for the betterment of the membership. On May 2nd, the Local was informed of a one week shutdown due to low level log supplies. Inventories have since been adjusted and production continues. A 3rd shift has been added as of the last week of March. Expectations for uninterrupted production is expected for the summer and fall seasons.
McKenzie lumber in Hudson remains shutdown
I would like to wish all my Brothers, Sisters and comrades a great summer. Have fun and enjoy your families.
Most importantly: "Work Safe".
In solidarity;
Jason Lacko
LOCAL 1-2010'S WOMEN'S COMMITTEE
Women Committee Meeting: November, 2016
Our second Women of Steel meeting counted thirteen women around the table at the Kapuskasing office. During the two days we saw new faces joining us, we discussed problems that these women have in their respective workplaces and we had a workshop given by two Sisters from Sudbury and Toronto. As Chair, I feel a strong union between the women on this committee.
As women, please take the time to look at a Sister and realize that you are on the same level on the workforce and that you should show solidarity.
I would like to thank Kelly Miller of Thunder Bay for her devotion all year, from bake sales to collecting non-perishables for the food bank. We are all proud of you Kelly.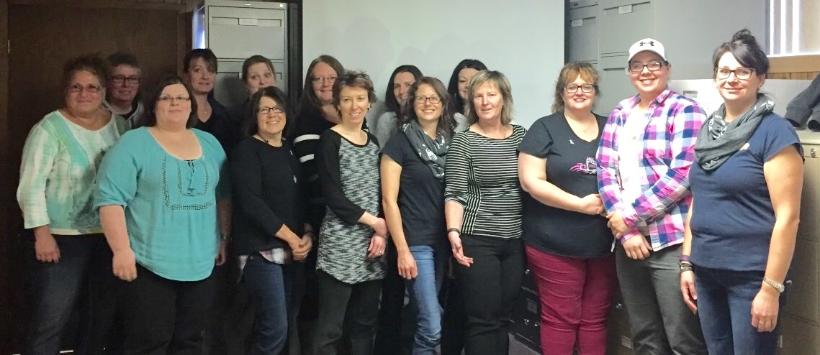 Back, Left to right: Susan Morson, Janet Moffat, Carole Proulx, Randi Dillon, Gisele Pintar, Christiane Baillargeon, Jennyfer Dinnissen
Front, Left to right: Lori Sanders, Ginette Lachance, Chantal Boissonneault, Caroline Demers, Christiane Cousineau, Kelly Miller, Ashley Malherbe, Terri Rita
Women's issues
Even now in 2017, women encounter problems on the workforce. After 40 years of fighting to get affordable, accessible and quality daycare services in Canada, this fight is still going on even if the federal budget recently unveiled is providing for long term funding. Presently, daycare service is not a public service. What we are looking for is to get an agreement. The funding should be used for establishing a public, accessible, flexible and affordable daycare service in all provinces. On March 30th, Ken Neumann mentioned that our Union is committed towards progressive actions in terms of pay equity and daycare services. As a woman who is part of the Women of Steel committee, I will continue fighting for these issues for all women in Canada and everywhere.
In Solidarity;
Caroline Demers
Chair of Local 1-2010's
Women's Committee
WOODLANDS WAGE CONFERENCE
March 30th & 31st, 2017

Twenty delegates from different woodlands operations of the Local came to the Thunder Bay office to participate at the woods operations wage conference. During the two day meeting, the delegates established a document for the next round of negotiations so that a pattern could be established with the employers. The targeted employers to set the pattern are Lecours and Tembec Hearst. These two negotiating committees have their work cut out for them as setting a pattern is not an easy task to accomplish. But knowing these two groups I know they are more than capable and open to the challenge. Negotiations should start in early September as most collective agreements end in August. Let's hope that by the next bulletin we will have the results of the negotiations to report to you.
April 4th & 5th, 2017

The Local's sawmill wage conference was held at the Queens Hotel in Hearst where twenty five delegates from different sawmill operations met to establish a negotiating document. In preparation of this document, the committees had to debate and make sure their local demands were addressed. In the two day meeting a document was established, and like the woodlands operations, the delegates had to decide which sawmill operations would set the pattern. It was decided that the Tembec group, namely Hearst and Cochrane, would set the pattern, same as the last round of negotiations. Like their Brothers in the forest industry these two committees have their hands full but they have the experience and the knowledge to get the job done. We hope we can report back to you in the next bulletin the results of those negotiations.