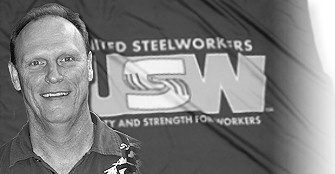 PRESIDENT'S CORNER
ONGOING NEGOTIATIONS,
USW NATIONAL POLICY CONFERENCE
Sisters and Brothers;
Half of 2023 is already behind us and we have again this year many Collective Agreements that have to be renewed, therefore many rounds of negotiation ahead. Over and above all the Collective Agreements that are due in 2023, there are a few which were due last year that are not completed yet. Be assured that we are doing our best efforts to schedule them all as soon as possible. You will see and read about the ongoing negotiations in each workplaces in the representatives' reports.
During the week of April 24th to 28th, a delegation of 9 Sisters and Brothers, namely April Johnson (Gateway Casino), Cora-Lee McLeod (Hornepayne Lumber), Roger Beland (Interfor Gogama), Daniel Touchette (GreenFirst Cochrane), Jeff Low (Nextus Trucking), and the Local's representatives Eric Carroll, Jason Lacko, Wesley Ridler and myself did attend the USW National Policy Conference in Toronto. The delegates have participated in resolutions discussions, listened to many panels, speakers, and leaders from both the National and Districts. This conference was very informative and each of our delegates learned a lot during debates, presentations, panels and speakers messages.
Have a great summer, enjoy your holidays with your family and friends and be safe at all times.
In Solidarity;
Jacques Jean
USW National Policy Conference
Toronto, Ontario, April 24th to 28th, 2023
Delegates attending the USW National Policy Conference, left to right, Jacques Jean, Eric Carroll, April Johnson, Roger Beland, Cora-Lee McLeod, Daniel Touchette, Wesley Ridler & Jeff Low. Missing: Jason Lacko