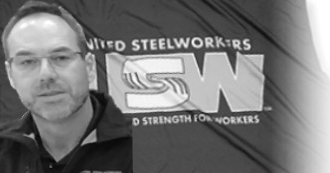 RESOLUTE WOODLAND OPERATIONS SECURE BEST INCREASES IN DECADES! IF NOT EVER!
Greetings Brothers and Sisters,
Woodland's operations
Your local bargaining committee representatives from RFP, Remar Trucking, BTG Contracting, Firesteel, Ward Crossings, Ricci Companies and Shuniah Forest products met with Resolute representatives for the second round of bargaining January 17th to 19th, 2023 and have successfully reached a four-year agreement with wage increases totalling over 24% during the term, with trades wages increasing over 28%. The agreement was ratified at 79% with a turn out of over 200 members casting their ballots. Along with substantial wage increases the committee made gains in vision care, massage therapy, increases to dental plans and the reintroduction of a shift differential.
A newly added special payment in the event lumber prices rise, the special bonus based on the market is adjusted semi-annually. The calculation is made on June 30th and December 31st of each year according to the average prices of the target indicator published in the 6 months preceding the calculation. Special bonus based on the market is paid if the average of the target indicator is at $824 USD or above. In the event that the average price of the target indicator reaches $824 USD or more, the special bonus of $1.00 per hour would be paid for every hour worked.
We expect copies of the new agreement to be distributed by the middle of June. If you do not receive one, please contact your Local office in Thunder Bay and I will be sure to get you one.
Update! as to the jurisdiction and the 200,000 cubic metres non union harvesting grievances. Follow up dates for this arbitration have been added and will be heard December of 2023! Long time away, I know! With some persistence we may be able to come to some sort of resolution; time will tell.
We have new contractors working on the English River and Wabigoon Forests. Welcome TLC Contracting, Constant Trucking out of Fort Frances and Koval Slashing. As many of you know there have been some difficulties transporting wood to our Atikokan and Ignace sawmills out in the western area of our Local. Therefore, there is need for more trucking to secure wood supply and keep the sawmill members working and flourishing.
Message for non-union workers: You need to understand the benefits of working within our collective agreement. Pieceworkers who deliver for these non-union outfits do not even realize that they are losing money by working piecework. They need to work smarter not harder and reap the same benefits and safety standards as our unionized workforce. Let them know what our rates are and where they will be in 2025. Strength of your Union depends on its woodland members.
It is my goal to organize all committees within each operation. Safety, stewards, women's if applicable and grievance committees are extremely important when servicing woodland units. I am not the Union, you are! Thank you to the hardworking members already active and mobilized. Thank you to our newest stewards at BTG contracting and Kiezebrink logging.
Dallan LP (Thunder Bay Pulp mill)
Busy winter with various grievances and ongoing dialogue between Brother John Hearn (Steward/H&S representative) and the management team has been beneficial to eliminating most concerns. This unit is preparing and heading into bargaining this spring with dates scheduled for May 30th, 31st and June 1st, 2023. With other industry bargaining units in the area seeing substantial wage increases, this bargaining unit is poised to see gains.
The Union filed and resolved grievances pertaining to postings, non bargaining unit workers doing bargaining unit work, as well as many other issues with the day-to-day operations. Important to note that there is a vacancy within our grievance committee at this site. Give John a hand and get involved.
Dallan FW (Thunder Bay sawmill)
Dallan operations at Resolutes Fort William sawmill will be heading into bargaining in October. As per our usual practice, I will begin taking demands sometime this summer.
With the ongoing increase of wages within the forestry industry, expectations are high to secure a good agreement. Please keep an eye out for bargaining surveys during the summer for those who may not be able to make a membership meeting. I encourage everyone to make time to attend these meetings. It is very important that unity and solidarity are strong.
Education @ work; Brother Blair DeCorte (Steward/H&S rep) had an opportunity to attend the Health, Safety and Environment conference in Pittsburgh from April 17th to 21st.
Wanson Lumber
Demands from the membership for the renewal of the collective agreement have been taken with dates for bargaining set for June 6th and 7th, 2023
NWOSAC (Northwestern Ontario Steelworker Area Council)
Your Local belongs to the area council. Our council works to shape the labour movement in house and abroad. The local area council has been continually active in its support of community events and membership needs, which include Locals from grain, mining, bus drivers, catering, forestry, service sectors and more. In June of this year, we will be offering the Nationals program "Unionism on Turtle Island", June 12th to 16th. The area council will also be participating in the revitalization of the March of Dimes courtyard here in Thunder Bay. Other events to be announced. Please reach out to Jason Lacko @ the Thunder Bay office, if you would like to learn more about what is happening in your area.
Summer will soon be here, and I hope you all have a happy and safe time with family and friends. Be sure to use your vacation and get some rest and relaxation.
Take care of each other. WORK SAFE!
In Solidarity;
Jason Lacko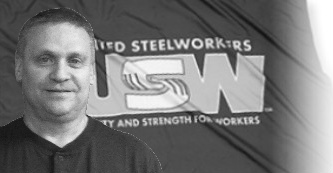 STILL BUSY WITH NEGOTIATIONS
Hello Sisters and Brothers.
Since our last Echo where I was reporting on many negotiations, well again I am reporting that we are still very busy with negotiating.
With many negotiations ahead, I had to take demands and prepare documents. On January 23rd and February 6th to 9th, we were in negotiation with Hornepayne Lumber and a tentative agreement was reached. It's a 4 year agreement with a wage adjustment of $1.50/hr for all employees with a $1,000.00 lump sum for all employees who were actively employed on September 1st, 2021, in exchange of a bus services that was provided by the employer and that they didn't want to provide anymore. Besides this trade-off, the remainder of the agreement was as per pattern with some gains in areas where the unit was behind and were getting less, but they caught up. This agreement was ratified by the members on February 25th, 2023.
From March 6th to 8th, we were in negotiations with Aramark. We reached a 3 year agreement with the employer on March 8th. The agreement covers wage increases, wage adjustments for lead hand, increases for safety shoes, glasses, pension plan, massage, etc… This agreement was ratified by the members on April 23rd, 2023.
We will continue or start bargaining sessions with more units in a near future. Those are: Hearst Coop, Hearst & Area for Community Living, Maison Renaissance, White River Forest Products and Columbia Forest Products (Shops). You will get a report in the next Echo.
Enjoy your summer! If you are traveling, camping boating, fishing and/or whatever your plans are, BE SAFE! Enjoy your hobbies in a safely manner!
In Solidarity;
Guy Veilleux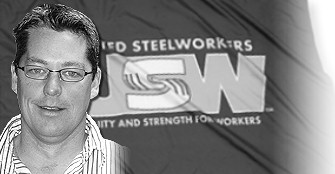 MANY NEGOTIATIONS IN PROGRESS
Greetings Brothers and Sisters. I hope that this winter hasn't been too hard on you and your families. In the last several months, we have been busy with negotiations, arbitrations, and dealing with grievances.
3 Nations Logging
It's been a struggle for our members working in the woodland's operation for 3 Nations Logging out of Cochrane. This employer has no intention of negotiating a good and fair agreement for our members there, and because of this, most of the members have moved on to work elsewhere. With that said, the remaining members there are facing a strike or lockout. Hopefully by the next edition we will have positive news for the membership on this situation.
Canadian Blood Services
With many outstanding demands left to address in negotiations, such as, term of the agreement, paid meals, shift premiums, overtime, increases in wages, just to name a few, our members that work for Canadian Blood Services in Sudbury have been waiting for a new Collective Agreement since March of last year. And because they are not entitled to strike because they are considered essential services same as nurses working in hospitals, in September of last year the Local applied with the minister for Interest Arbitration under HLDAA (Hospital Labour Disputes Arbitration Act). This process is there when the parties agree that the matters between them are in dispute and that a single arbitrator will decide. On April 20th, 2023, we had the hearing and argued our position on our demands. Hopefully we get a decision that is favourable for our members there who work for Canadian Blood Services.
Rockshield EWP
On June 5th, 2022, we met with the members working for Rockshield EWP (Engineered Wood Products) out of Cochrane to take their demands in preparation for upcoming negotiations. We then met several days with the Company between November 2022 and February 2023 to try and negotiate a fair Collective Agreement for our members working there. The last 3 Collective Agreements the membership had agreed to various Company demands to help this employer survive the difficult times that they were going through. It must be noted that this plant faced CCAA protection back in 2010 and since then, we have dealt with 2 different employers. But the markets are now better, and the plant is also doing better. Our members want a fair deal. We are scheduled to meet once again in May in mediation. Hopefully we'll be able to report in the next Union Echo that we had success getting our membership at Rockshield EWP a new and fair CBA.
Centre de Santé Du Grand Sudbury
On March 22nd, 2023, we met with the members working in Sudbury at the Centre de Santé to take demands. Their Collective Agreement was up for renewal on March 31st of this year. Negotiations are scheduled to start on May 8th to the 10th. But because of the timing that this Union Echo is being put together and then printed, we will only be able to report the outcome of these negotiations in our next Winter edition. Hopefully it's good news.
Wishing everyone a great summer. Stay safe.
In Solidarity;
Eric Carroll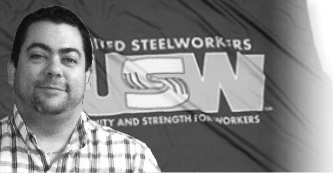 SPRING IS IN THE AIR,
ALONG WITH UPCOMING NEGOTIATIONS!
Finally, spring is in the air after a long, drawn-out winter. It shouldn't be too long before we can all enjoy the warm weather and all the activities that summer can provide. I had the opportunity to attend a 5-day training workshop, titled "Unionism on Turtle Island" last fall. My eyes were opened while taking this training, as it speaks to the mistreatment that Indigenous peoples of Canada have endured since colonization. If you have the opportunity to take this training, please do as it is very comprehensive. I was humbled after taking the training. This summer will be very busy with training and upcoming contract negotiations. I was also able to attain my certification in JHSC in April. I attended the USW International Health & Safety Conference in Pittsburgh in April. I was also able to attend the USW National Policy Conference in Toronto in April as well. I was fortunate to attend both conferences, and the knowledge I gained at each will help me provide service to our members. I am also looking forward to organizing the training and planning the annual steward meeting this fall. I will also be planning membership meetings for all of the units I represent, in the next month or so.
Gateway Casino, Thunder Bay
The members at Gateway Casino, Thunder Bay are currently off the job as of the day of me writing this report, May 1st, 2023. The company has suffered a ransom-ware attack. This attack essentially shut down all of Gateway operations, in the province of Ontario. The company is now restarting operations with the assistance of an outside IT company, one location at a time, to fall in line with AGCO and OLG guidelines. They are also restarting this way to address any problems if they arise. I am hoping our members in Thunder Bay will be back to work soon, so they can continue to provide the great customer service they are known for! The shut down has now been a little over 2 weeks. Aside from that the casino has been doing well before the shutdown with patron counts getting close to pre-covid levels. That potentially translates to increased revenue and continued employment for our members.
Nakina Sawmill
The members at the Nakina Sawmill are anxiously awaiting upcoming contract negotiations to attain some much needed wage increases. I am in the process of getting bargaining surveys distributed to the members, as well as having membership meetings to listen to what the members would like to change, add or take away from their first collective agreement. This will be a new experience for them, but I'm looking forward to it and I'm sure they are as well. I had membership meetings in the fall as well as labour management meetings to address any issues from the members.
Resolute Ignace Sawmill
Production numbers at the Ignace sawmill have continued to trend upwards. The culture seems to have changed following a change in management. This change has been a positive one for the workforce and I believe the improved production is a translation of people wanting to be there and work at the mill again. I have also seen positive improvements in worker involvement at the mill. They are being seen, heard and appreciated. This was not the case at the mill with the previous management team. There has also been an uptick in the membership at the mill with the recruitment of additional staff. I had a membership meeting in the fall and hope to have another one in the next month or so. I have also had some labour management meetings since our last issue of the Echo. I also attended the memorial service for Teresa Vanderzanden, a special ceremony honoring the 1-year anniversary of her passing. She was a contractor at the Ignace Sawmill that passed away at the workplace.
Dallan Ignace
The operations at Dallan Ignace have continued to keep pace with the increased production of the sawmill in Ignace. The members have been doing a great job moving the wood in and around the sawmill. There has also been some new Sisters hired on, which is great to see. The operations at Dallan Ignace continue to be consistent in a positive respect. I plan on holding a membership meeting in the spring for this unit. I have also had a labour management meeting in the past month to bring forward members' concerns.
Resolute Atikokan Sawmill
The Resolute Atikokan Sawmill is a very busy mill. It has high production numbers and a very diverse membership, which is great to see. A large portion of the workforce is comprised of Ukrainian people, new to Canada. They seem to have adjusted to life in Canada well. Their arrival has allowed the sawmill to ramp up production. There are plans to build a brand new kiln, which will add to the mill's ability to handle the uptick in production as well as continue to dry wood for the Ignace sawmill. The kiln in Ignace burned down last year, and since then the Atikokan sawmill has been drying their wood. The new kiln will also provide some new opportunities for the members, as well as bring in some new faces to the mill. The only issue at the Atikokan sawmill is the low log supply. That situation looks like it will improve in the short-term. A 4 on 4 off schedule seems like a possibility for the sawmill in the near future. There will be an increase in the harvesting operations in the English River and Caribou forest which should help secure more log supply.
Dallan Atikokan
The members at Dallan Atikokan continue to do a great job, keeping up with production at the Atikokan sawmill. There have been some recruitment challenges, but as every other workplace, it is a work in progress. On a regular basis we are working with the company (Resolute) to improve the yard conditions when possible. This is an issue that will always be there, and we will continue to work with the company to try to improve it. There is a good possibility that the sawmill will go to a 4 on 4 off schedule, this in turn will require Dallan Atikokan to follow suit, to some extent.
Happy summer to all!
In Solidarity;
Wesley Ridler