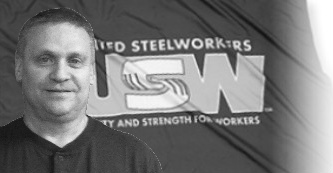 NEGO, NEGO, NEGO
AND MORE NEGOTIATIONS
I would like to take this moment to wish everyone a nice and safe summer. It seems like we will finally have a normal summer after a couple of years of pandemic. People will be able to travel more and enjoy their summer vacation.
GreenFirst – Hearst Sawmill
We negotiated with GreenFirst Hearst sawmill. We exchanged our documents on November 30th, 2021, met from December 1st to 3rd, 2021 for negotiations and then again in January from the 11th to 14th and again from January 17th to 21st. We then applied for conciliation and met in conciliation April 26th to 28th. After no success in reaching an agreement, we applied for a no board. We went back into negotiation on May 16th. We were not successful on reaching an agreement. The strike date was scheduled for May 23rd and on May 18th we had a zoom meeting where we were finally able to reach an agreement on a new Collective Agreement. We had a vote held on May 23rd, where the agreement was ratified by our members. The new Collective Agreement is a 4-year agreement with an increase in pension plan, vision care, weekly indemnity and almost all other benefits plus a wage adjustment for the maintenance department and wage increases of 3.5% per year for each year of the Collective Agreement.
GreenFirst – Hearst Woods
We are going to be in negotiation on May 30th and 31st, 2022. This will be our first meeting for the negotiations with the woodland and we will already be in conciliation.
Lecours Lumber Woods
We exchanged our documents on November 29th, 2021 and negotiated on December 15th and 16th, 2021 and also on the 8th and 9th of February, 2022. After, we filed for conciliation. We then met on May the 12th and 13th where no agreement was reached. We are now looking at another date for negotiation at this point.
Lecours Lumber Sawmill
We exchanged our documents on May 9th, 2022. We are going to meet from May 24th to May 27th in conciliation. Hopefully we can reach an agreement during those negotiating dates, more to follow in the next Echo.
We will have more negotiations in the year 2022 since we have Hornepayne, White River, Columbia Forest Products Woods and Aramark coming to an end with their collective agreement. As you can see, we've been busy with negotiating in the past year and for this following year.
I attended an arbitration course that was held in Sault-Ste-Marie from May 16th to May 20th. That was a very interesting course, showing us all the work that must be prepared for a successful arbitration.
We also gave a Steward training course level II that was held in Thunder Bay from May 27th to May 29th, 2022.
On June 2nd, 2022 there will be a Safety Meeting that will be held in Thunder Bay. We will have a good turnout for this training as 30 Co-Chairs will participate in this training.
Again, I would like to take this opportunity to wish everyone a safe and happy summer vacation. Enjoy time with loved ones during this summer season.
In Solidarity;
Guy Veilleux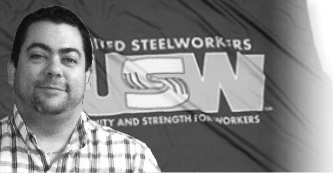 Hello Brothers and Sisters!
It has been a very busy several months since our winter edition of the Echo. I have settled into my new position well and with great enthusiasm. I am into my own groove in servicing the members and assisting the stewards of the units I am responsible for. It has been challenging, interesting and fun and I am very happy to be the new business representative for the Local. I am looking forward to the arbitration training I will be receiving in mid-May, as well as the Health & Safety training being facilitated by the Local in early June for all of our Health & Safety Co-Chairs. I am also looking forward to some of the stewards in my units being able to attend Level 1 and Level 2 steward training in May and June. I know there are many challenges ahead, and I look forward to facing them. I would like to thank Brother Jason Lacko for mentoring myself as I learn in this new position.
Resolute Atikokan Sawmill
The members of the Resolute Atikokan Sawmill have settled into their new 4-year agreement, ratified in the fall. I was able to have a membership meeting in March finally, with the pandemic being over. There have been several grievances filed against the company for some unjust disciplines and failure to follow the Collective Agreement. The two grievances I just mentioned were resolved positively, with the members affected being satisfied with the result. There have been several others this year; they have been resolved as well.
There is also a new Women's Committee Representative at the mill, Sister Montana Greening. Congratulations, and thank you for stepping up!
A new apprenticeship committee has also been established and agreed to by the union. I believe this committee is structured well to benefit the members in the trades as they begin and move forward.
There have also been some labour management meetings, enabling myself, the steward and a committee member to bring forward issues before they become problems. Recruitment seems to be an ongoing issue at the mill, as well as almost all workplaces in Canada. The location of the mill, lack of housing in the area, and the need for more workers in the labour pool has contributed to recruitment issues.
Resolute Ignace Sawmill
Very sad news to report for those of you that may not have heard. There was a fatality of a contractor at the Resolute Ignace Sawmill in March. The Ministry of Labour will not be making the report of the incident public. Our Emergency Response Team was dispatched to the site to offer support to our members who worked with the contractor. I was able to assist and offer support to the members as well. Condolences go out to the family, friends and co-workers; a very very sad time for all of those affected. There will be new lock-out procedures and standard operating procedures being put into place. If there was any wrongdoing the Ministry of Labour will act.
The members at the Resolute Ignace Sawmill are as well settling into a new Collective Agreement ratified in the fall. I have been able to have a labour management meeting and a membership meeting since our last issue of the Echo with the lockdowns being ended.
Dallan Atikokan & Dallan Ignace
New agreements at both operations, Dallan Atikokan and Dallan Ignace have been ratified by the members since our winter issue of the Echo. These agreements mirror the Collective Agreements within each sawmill that the Dallan operators work at. The only difference being the wage schedule as they don't have the same job classifications as inside the mills. There have been several grievances filed primarily at the Atikokan Dallan operation, most of which were unjustified or discipline too severe. All have been resolved favorably. I have membership meetings planned for May and June for each of these units. The heavy equipment operators are important to each sawmill, as they move the wood in and out of the sawmill.
Gateway Casino
It has been a roller coaster ride for the two units at Gateway Casino Thunder Bay. With the opening and closing several times, the members are happy to be back to work on a permanent basis. The last department to return to work was Table Games, which returned to operations in March. They would have returned sooner, however public health rules regarding covid didn't allow customers to fill each spot at each gaming table. Recruitment is a problem at the casino, as it is in many workplaces across the country. The Company is trying to improve the recruitment process, however I believe more can be done at the corporate level to help that process. I have a had a membership meeting for the Clerical unit in April, and have a labour management meeting planned for May, and a membership meeting planned for the floor unit in June.
Nakina Forest Products
The members at the Nakina Sawmill, have been diligently working away and producing a lot of excellent and specialized finished product. Manpower issues continue to be an issue at this mill as well, but the members are working through it. A brand-new optimizer was added in January, which allows the mill to make specialized finished lumber for an ever-increasing specialty wood market. We have been able to have some labour management meetings with the Company as well as a membership meeting since our last issue of the Echo.
I would like to wish all of the members a safe and enjoyable summer, take care, stay safe, work safe!
In Solidarity;
Wesley Ridler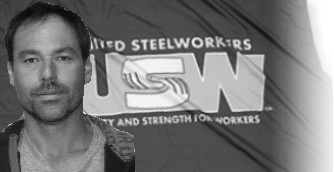 WOODLANDS DEMANDS AND MEETINGS
TO COMMENCE LATER THIS SUMMER!
Greetings Brothers and Sisters, I hope this finds you and yours safe and healthy.
Woodland's operations
Membership has been steadily increasing over the winter months and I expect it to continue throughout the summer as woodland operations ramp up. There is a real shortage of workers in the forest industry. In the woodlands, truck drivers, equipment operators and mechanics are all in short supply with the increase of production at Resolute's sawmills and start-up of mines in Northern Ontario. This will contribute in stalling the recruitment process both in our mills and our woodland operations. We will need to work with both governments and the industry to make these community supporting sustainable opportunities more attractive to a new generation.
Big year for woodland operations as we embark on the contract renewal of the Resolute woodland agreement. Given all that has happened to the members during the pandemic and the raising cost of life, I remain optimistic that we will persevere, regardless of the road ahead. Negotiations will commence upon the expiry in November.
As normal practice your union will be setting up meetings, electing and/or appointing bargaining committee representatives and taking demands from the membership. When your unit is called to attend a meeting, please make it a priority to attend. Strength of your union depends on its 500 woodland members.
Your union has filed a recognition jurisdiction grievance in late April which pertains to alleged worksite(s) limits of Resolute on the Nipigon Forest. I expect that process to take some time to play itself out. The union has also filed a grievance with regards to the 200000 cubic metres cut by non union harvesters.
It is my short-term goal to organize all committees within each operation, Safety, stewards, women's if applicable and Grievance committees which are extremely important when servicing your units. I am not the union, you are! And together we could strive to make it safer, more transparent and more enjoyable to work knowing your voice is heard. Please consider being an active piece of that process. I have begun to post committee vacancies. Ask yourself, how could I make a difference at my workplace by getting active within my union.
Thank you to the hardworking members already active and mobilized.
Dallan LP (Thunder Bay Pulp mill)
Dallan pulp operations have been continuing to assert themselves, as an important piece of the Dallan Forestry enterprise. The union is presently working on a better way to ensure overtime opportunities are distributed to those who want to work. Leaving the call in up to management has led to grievances and a potential settlement of a grievance filed in late 2021. The potential resolution will consist of a trial to sign up for overtime as opposed to waiting to be called.
Dallan FW (Thunder Bay sawmill)
Big capital expenditures from Resolute will have a big impact on the future of the Thunder Bay operation and added space at the Fort William First Nation site. Resolute plans to expand the present log yard and increase the size of the finished yard, with future plans to add another kiln to the repertoire. The expansion will lead to an increase in production and the workforce.
Nakina Lumber Inc.
The next stage for the members and the union is to build our presence within the workplace. I will not be able to do this alone, we need members to step up and work with us to make the site the safest and the best it can be for everyone who works there. The union is you! How strong the membership is will depend on the active engagement of its membership.
Please keep an eye on your union boards for updates on meetings, events and more importantly nomination postings, as once again, I will be posting nominations for your union representatives. I am a phone call away!
Unitized, Wanson and Wajax
A changing of the guard has taken place at the Wajax site. Long-time member and union steward Brother Donny Levanen has retired and is set to enjoy his earned vacation fishing and being with family. On behalf of the membership enjoy your retirement and thank you for your 40 years of service to your union.
Brothers and sisters, Enjoy your summer and your families.
Take care of each other. WORK SAFE!
In Solidarity;
Jason Lacko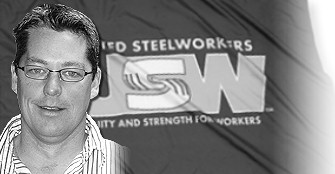 NEW COLLECTIVE AGREEMENTS
AND NEGOTIATIONS IN PROGRESS
Since my last report of the Union Echo we have been busy dealing with various Negotiations, Arbitrations, and Union Management meetings.
GreenFirst Kapuskasing Woodlands Operation and Office Workers
Last November, our members from the GreenFirst Kapuskasing Office Workers and Woodlands Operations ratified a new 4-year Collective Agreement. This new agreement brings increases to the boot allowance, the Dental Plan, the Life Insurance coverage and the Pension plan. The agreement also offers a wage adjustment of $0.40 per hour for all production workers, a $1.25 wage adjustment to all trades personnel and a wage increase of 9% over the term of the agreement.
Maison Arc-En-Ciel
After having ratified a new 3-year agreement last September, earlier this year our members were informed that La Maison Arc-en-Ciel was going to close its doors. This announcement came after the Ontario government made the decision not to renew the funding for La Maison Arc-en-Ciel. We wish all the best to our membership there.
Kirkland Lake Forest Products
On November 28, 2021, our members from the Kirkland Lake Finger Joint plant ratified a new 5-year Collective Agreement. This new agreement comes with an increase to vacation premium, an additional floater, floaters and holidays paid as per the employees regular scheduled shift, an increase for the purchase of personal safety apparel, an increase in the tool allowance, an increase in the Dental Plan, a wage adjustment for all classifications and a wage increase of $2.25 over the term of the agreement.
GreenFirst Cochrane Sawmill
Negotiations at the Cochrane GreenFirst sawmill are now on their way. We've met with the Company in conciliation during the first week of May. Unfortunately, we were unable to come to an agreement. On May 29th we met with the membership to inform them of the situation and where the membership gave us a 100% strike vote. We'll report in the next Union Echo on the situation there in Cochrane.
GreenFirst Chapleau Sawmill and CoGen
In Chapleau we met earlier this past May with both the membership from the GreenFirst Sawmill and CoGen to take their demands in preparation for upcoming negotiations. Both their Collective Agreements were up for renewal on May 1st. We intend to meet with the employer there in the coming weeks to negotiate our members a new and fair Collective Agreement. We'll also report on the situation there in Chapleau in the next Union Echo.
North Cochrane Addiction Services
This past April our members working for North Cochrane Addiction Services ratified a new 3-year Collective Agreement. This new Collective Agreement brings an additional week vacation for employees with 18 years or more of seniority, an additional sick day, increases to the business expenses, a signing bonus, and a 4.5% wage increase over the term of the agreement.
Wishing everyone a great summer.
In Solidarity;
Eric Carroll